Jonah Activities and Crafts
Fish in the Sea
1 package blue gelatin, 4-6 candy fish, 4-6 clear plastic cups, whipped cream topping - Make the gelatin according to the directions on the package.  Pour the gelatin into the clear plastic cups.  Place a candy fish in the middle of the gelatin in each cup.  Refrigerate.  Top with whipped cream to make "waves."

Fish in the Water  Original Source Unknown
Fill a 2-liter bottle half full of water tinted with blue food coloring.  Fill a balloon full of water until it is about 3" long and tie off.  Poke the balloon into the bottle.  Turn the bottle on its side and rock to see the whale ride the waves. 

Fish Cookies
From sugar cookie dough, cut triangles that are two different shapes (or use a whale cookie cutter).  Overlap the two triangles (with the points of the triangles facing the same direction) to make a fish shape.  Press down to make the shapes adhere together.  Bake according to the recipe.  Frost the fish cookie with blue icing.  Add a teddy bear cookie or draw a stick man in the frosting to represent Jonah.
Computer Game
Play the "Jonah" adventure on the Charlie Church Mouse Preschool Cd-Rom.  Read more...

Hug and Seek  Idea adapted from Pray and Play Bible 
Play a variation of Hide-and-Seek to help the child learn we can't hide from God.  Have one person count to ten while everyone else hides.  Each time the seeking person sees a "hidden" person, give him or her a hug and say, "God sees you and so do I." 
Two-liter Fish
Using a empty two-liter bottle, decorate it so it look like a fish.

Jonah in the Whale
Add a triangle tail to right side a paper plate.  Cut a horizontal slit in the middle of the plate.  Add an eye and mouth on the left side to create a whale.  Draw a face on the back of a plastic spoon and slide the spoon (Jonah) into the slit.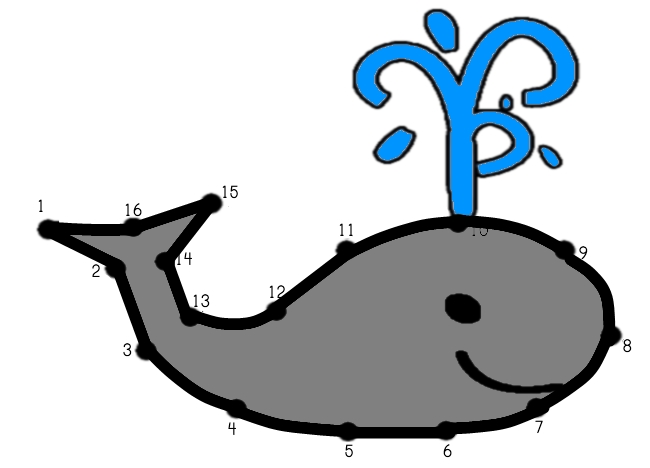 Whale Dot-to-Dot 1-16