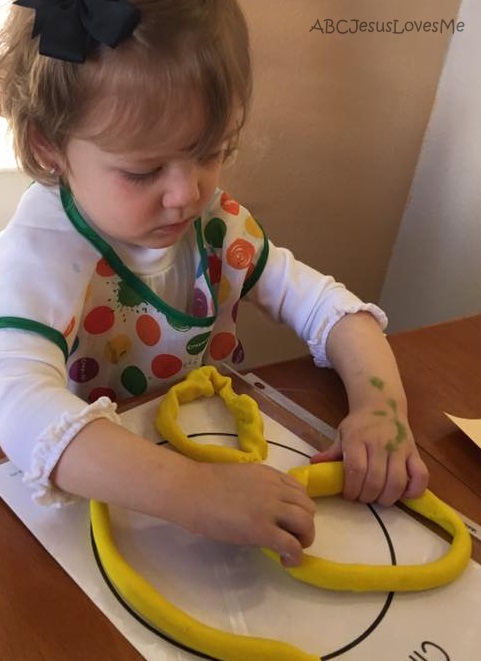 Image shared by Christina
Written below are lists containing the craft supplies, supplemental materials, and books suggested throughout the Complete 2 Year Curriculum. While the lists may seem daunting at first, I believe that you will find the vast majority of the supplies already in your home. If they are not, I suggest that these items be available for your child to use and play with to expose your child to many textures, activities, books, and play.
Items are divided into categories to make them easier to find and linked to Amazon so that you view a picture of each item. Most of these items should also be available at your local supermarket but may be substituted with other items on hand. View the 2 Year Curriculum Guide to see how each item is used.

Again, do not get overwhelmed by this list. Substitute items and books with what you already have in your home.
*Cd's and Cd-Rom's

_______
The Bible songs chosen in this curriculum are old "Sunday School" favorites and are added to heighten the curriculum. I have tried to choose ones that are familiar to most but if the song is not known any Bible song can be used. Most songs can be found on Amazon through MP3 download or on several Bible Songs CDs available to purchase.
*Food

_______
1-2 liter bottle
_______
A variety of different colored foods
_______
Animal crackers
_______
Basic baking ingredients
_______
Berry foods
_______
Breadstick dough or sugar cookie dough
_______
chocolate chips
_______
Chocolate, French vanilla pudding
_______
Circular cereal
_______
Corn Syrup
_______
Food coloring
_______
Goldfish crackers
_______
Graham crackers
_______
Marshmallows
_______
Macaroni
_______
pasta
_______
Pretzel sticks
_______
Pumpkin or watermelon
_______
Spaghetti
_______
Vinegar
Household Items

_______
Bandaids
_______
Baster
_______
Belt or rope
_______
Bird seed
_______
Boxes
_______
Clothes pins
_______
Coffee Filters
_______
Cotton Balls
_______
Drinking straws
_______
Easter egg
_______
Egg timer
_______
Flashlight
_______
Fly swatter
_______
Fork and spoon
_______
Handkerchief
_______
Hole Punch
_______
Items of different textures
_______
Knife
_______
Luffa and soap
_______
Magnifying glass
_______
Nylon scarf
_______
Old toothbrush
_______
Oval cookie cutter
_______
Packing tape
_______
Painter's Tape (this tape doesn't leave a residue like masking tape)
_______
Paper Plates (inexpensive paper plates are best)
_______
Paper sacks (various sizes and colors)
_______
Pillows or leaf pile
_______
Plastic containers
_______
Rolling pin
_______
Q-tips
_______
Shallow pan
_______
Shaving Cream
_______
Sponge
_______
Spray Bottle
_______
Sticky Tack
_______
Tent or covered cardtable
_______
Toilet paper rolls
_______
Towel
_______
Wrapping paper roll
_______
Zip-top bags