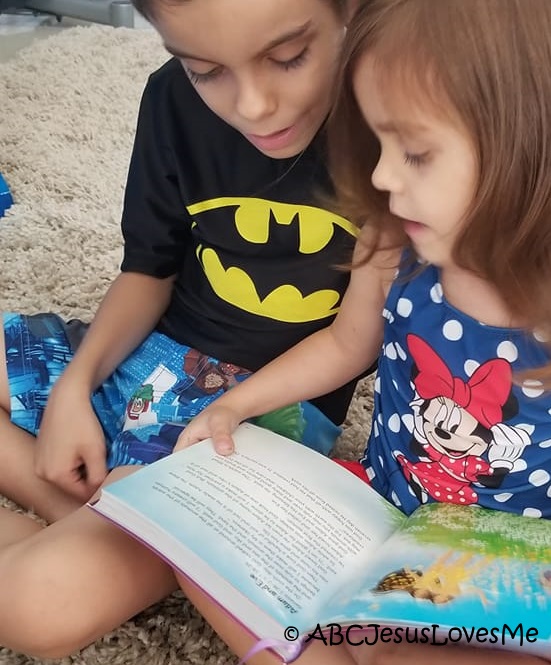 images shared by melissa
Unsure of how to explain the Gospel to a child?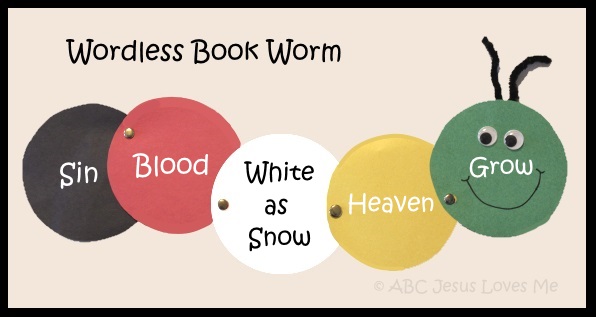 The Wordless Book is used the last weeks of the 4 and 5 Year Curricula. Using simple terms, this plan is written to give you exact words to use when talking to a child. Also read the ABC's of Salvation.
A Heart for Jesus by Juanita Bynum is a book that specifically explains in childlike terms what it means to "give your heart to Jesus." The book contains a prayer for a child to pray to ask Jesus to make their hearts new and clean.
The Jesus Book
by Stephen Elkins explains the Who, What, When, Where, and Why of Jesus. Answered are questions such as "Why did Jesus die on the cross for me?" and "How do we receive eternal life?"
I Believe In Jesus: Leading Your Child To Christ by John McArthur tells the story of God's plan of salvation from creation through the life, death and resurrection of Christ.
If you have questions about beginning a personal relationship with Jesus Christ, please email me. I don't know all of the answers, but I would love to explain how easy it is to bridge the gap between you and God.

If you decide to accept Jesus' free gift of eternal life, please let me know. I would love to know that you made this decision and rejoice in your salvation with my new brother or sister in Christ. Your name will not be posted in anyway.
Salvation Certificate
Print a Certificate of Adoption to hang on the wall declaring the day that your child or student became part of God's family!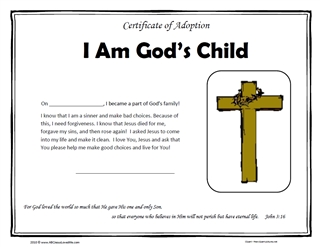 Cross Certificate of Adoption
Shading Cross: Mauve or Blue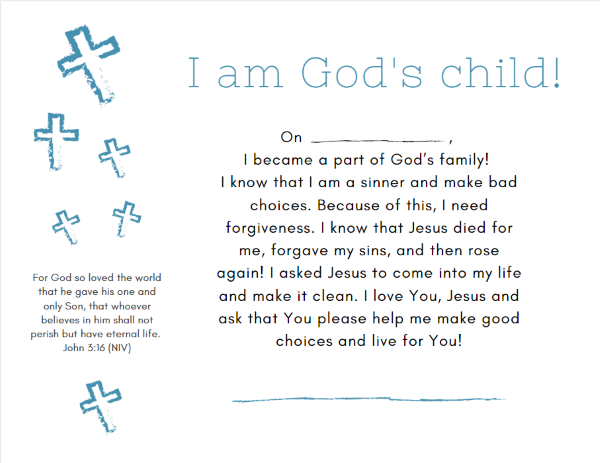 Crosses: Blue or Red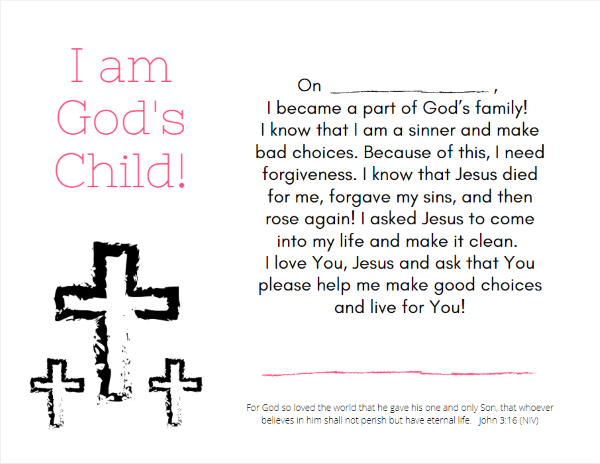 Three Crosses: Pink or Purple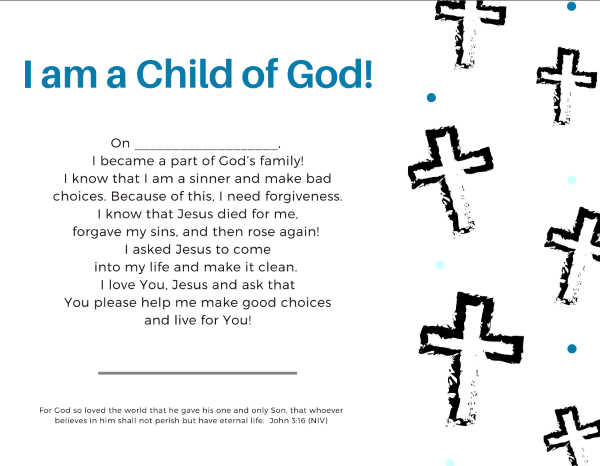 Crosses on the Left: Light Blue or Green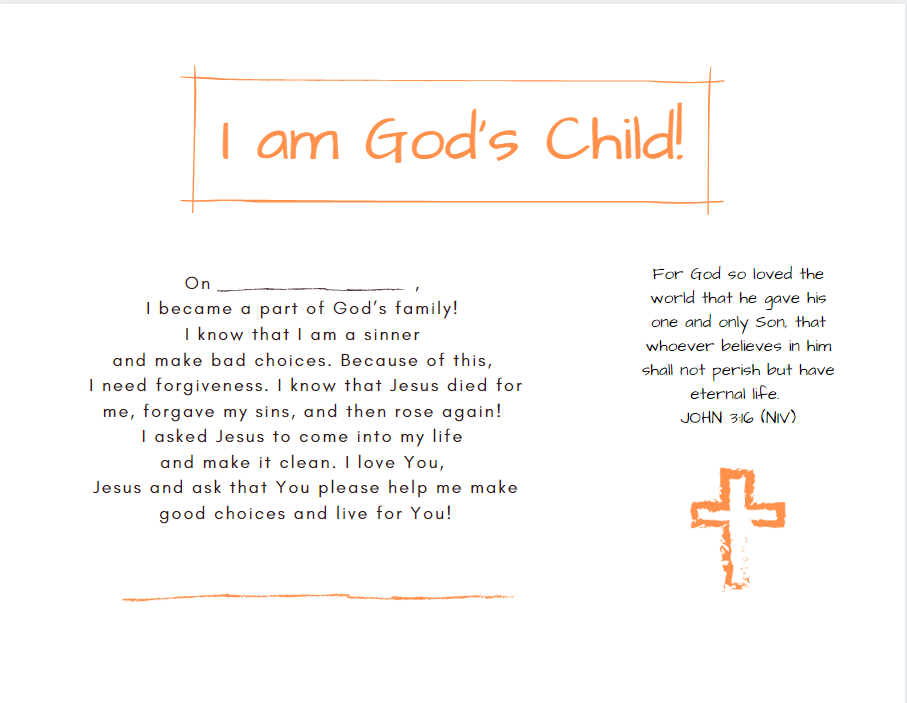 Single Cross: Orange or Red
Salvation Birthday Celebrations
We celebrate our children's salvation birth date similar to their birthday. This means we have brownies and candles at supper, and they know a letter with a meaningful "gift" is coming in the mail from their grandparents.
Notice that I said meaningful "gift."
The "gift" always coordinates with the letter which includes a Bible verse and an encouragement for the following year. These gifts typically free, used, or very inexpensive. Here are some examples to get you started.
Soap Dispenser – Verses about a clean heart
Rock with a Bible verse painted on it
Cleats, Shoes, Boots – Walk with God
Children's Bible or Bible Cover
Flashlight – Psalm 119:105, Isaiah 60:20
Large Magnet – Stick close to God
Children's Bible Study or Devo
Christian Book (Ideas for Girls)
Toothpaste – Power of words and how you can't put them back once they are spoken, just like you can't easily put toothpaste bag in the tube (Ephesians 4:32)
Shooting Target – Focus on the target
Arrow – Proverbs 3:6, Psalm 91:5
M&M's or JellyBeans – Add a Wordless Book Card
Lifesavers Candy – Romans 10:9
Puzzle – Jeremiah 29:11, God has a plan for your life
Compass – The Bible is a guide for our lives
Cross – Reminder of Jesus' sacrifice
Deck of Cards – Ace (There is 1 God)
2 (Two parts of the Bible – Old and New Testament)
3 (Trinity), etc.
Bracelet – Fish charms, Gold (Psalm 19:10)
Salt and Pepper Shakers – Salt of the earth
Poster, brownies, or a gift are just three options that we have found to help us celebrate these special days. I'd love to hear your ideas as well!
Helpful Links:
This page may contain affiliate links. Please read our disclosure policy.