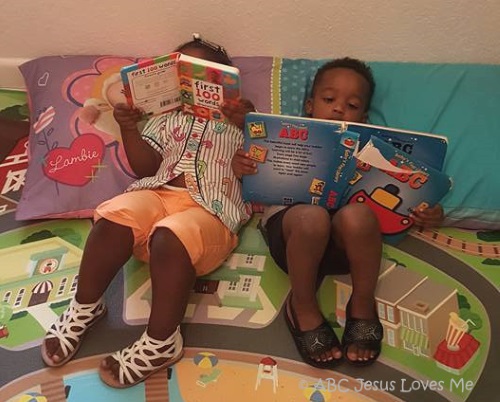 image shared by toni
Below are a list of favorite authors, books, and readers for kindergarten to 4th grade children. Read-alouds for K-2nd and readers for 2nd-4th grade reading levels.
Just because a child is reading on his/her own doesn't mean that read-alouds are no longer important. Fluency and rhythm while reading is greatly improved from listening to adults read. Choose books a couple of levels above the child's reading level when reading aloud. For example, a 3rd grade reading level would most likely be too difficult for a 1st grade child to read on his/her own but is perfect for an adult to read out loud to the child.
To check the reading level of a book visit the Accelerated Reader Website. Read ABCJLM suggestions concerning reading with your child.
More...
A to Z Mysteries Series
- A mystery for every letter of the alphabet. 3rd Grade Reading Level
Amelia Bedelia Book Series
- Everyone's favorite literal-minded housekeeper, Amelia Bedelia, will keep you in stitches as you read about her adventures. 2nd Grade Reading Level
Annie and Snowball
- Cute books about Annie and her pet bunny, Snowball. 2nd Grade Reading Level
Arthur
- Stories of everyone's favorite aardvark. 2nd Grade Reading Level
Berenstain Bears
- These stories are suggested throughout the ABCJLM curriculum due to their high moral standards and fun plots. I prefer the older stories written by Stan and Jan Berenstain over the newer ones. 3rd Grade Reading Level
Biscuit Books
- Very simple stories about a dog named Biscuit. 1st Grade Reading Level
The Boxcar Children Mysteries
- Four siblings find themselves without a place to live until they discover an old boxcar. 3rd-4th Grade Reading Level
Clifford, the Big Red Dog
- Adventures of Clifford, the big red dog. 2nd Grade Reading Level
The Cul-de-Sac Kids
- A children's mystery series by Christian author Beverly Lewis. 2nd Grade Reading Level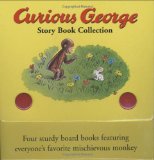 Curious George - Adventures with the fun little monkey and the man in the yellow hat. 2nd-3rd Grade Reading Level
Dinosaur Cove
- Two boys find a secret dino world. 3rd-4th Grade Reading Level


Dodsworth Books
- Bubs found these books at the library. We have enjoyed learning about different European cities in each book as we follow Dodsworth and Duck through their travels. 2nd Grade Reading Level
Emma Kate
- A book about friendship between a little girl and her elephant. 2nd Grade Reading Level
Encyclopedia Brown
- Timeless mysteries perfect for boys. 4th Grade Reading Level
Flat Stanley
- Stanley has to learn how to deal with his new situation after a bulletin-board falls on him and makes him flat. 4th Grade Reading Level
A Friend For Dragon
- Author Dav Pilkey has several fun books about Dragon for early elementary aged children. 2nd-3rd grade reading level.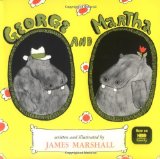 George and Martha - George and Martha are friends like no other. Read about the adventures they take. 2nd Grade Reading Level
Henry and Mudge
- Another popular series by Cynthia Rylant. Amazon says it best, "Henry doesn't have any brothers or sisters or friends. What he does have is Mudge, a 180-pound dog who is Henry's best friend and protector. The pair share several adventures in this lighthearted and easy-to-read book." 2nd Grade Reading Level.
How Do Dinosaurs
- Fun books explaining how dinosaurs do various activities. 1st Grade Reading Level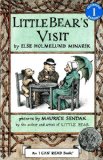 Little Bear's Visit - A precious bear that you will fall in love with. 2nd Grade Reading Level
Little Critter
- Delightful books by Mercer Mayer. 1st Grade Reading Level
The Littles
- This timeless classic about a family of tiny people. 3rd Grade Reading Level
Magic Tree House
- Enjoy the trips that Jack and Annie take in the Magic Tree House. 3rd Grade Reading Level
Mercy Watson
- Hilarious stories about a pig, Mercy, who lives with Mr. and Mrs. Watson in their home. 2nd Grade Reading Level
Mr. Putter & Tabby Bake the Cake
- Mr. Putter and his cat Tabby enjoy daily adventures. 2nd Grade Reading Level
Poppleton
- City pig Poppleton adjusts to life in a small town with his new friends. 2nd Grade Reading Level
The Puppy Place Series
- Books for puppy lovers in your home. 4th Grade Reading Level
Many of the books on the below "Book of the Week" lists for the ABCJLM Preschool Curriculum are 1st and 2nd Grade Reading level as well.
Early Reading Series
These books are specifically designed to help children learn to read.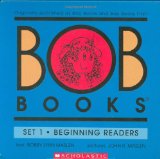 Bob Books
are also excellent books for Beginner Readers. We use these with our children. Be sure to read the back cover to get the gist of what the overall story is about. Read some suggestions and print of Bob Book Reading Checklist .
Fun Tales - This is another Beginner Reading set. Similar to the Bob books, the small books are 8 pages long with very short phonetically-correct words and sentences. Each story is about an animal or group of animals. On the back of the book learn about the real animals. I prefer the Bob Books over this set because this set uses nonsense words which are harder for beginning readers to figure out.
Step-into-Reading, Step 1
- Books specifically adapted for the early readers using rhyme and rhythm, picture clues, big type, and easy words. Many, many books to choose from.
I have not read all of the books written by each of the authors listed above. Please preread the books before sharing the suggested books with your children or students.