Our Terms and Conditions allow the below Lesson Plan and Worksheets to be used for immediate family use ONLY. Use beyond this is a violation.


Objectives:
Bible Symbol: Robe
Bible Story: Joseph's Colorful Coat (Robe)
Scripture: Genesis 37
Read & Share Toddler Bible: pg 62
ABCJLM Interactive Bible Story

Bible Song: The B-I-B-L-E (Traditional)
The B-I-B-L-E (make book with hands)
Yes, that's the book for me (nod "yes")
I stand alone on the Word of God (pretend to stand firm)
The B-I-B-L-E
Bible! (shout)
Character Scripture: Discernment
I Kings 3:9a (NIV) - So give your servant a discerning heart to govern your people and to distinguish between right and wrong.

Poem: Ring Around the Rosie (Traditional)
Ring-a-round the rosie,
A pocket full of posies,
Ashes! Ashes!
We all fall down.

Color: Green
Shape: Square
Animal: Turtle
Taking Care of Me: Where is my shirt?
Sign Language: Hot - make a "c" shape with your hand, touch the top of the "c" to your chin, and rotate your hand away from your face

Book of the Week:

My Little Word Book by Various Authors

Fine Motor Skill: Pom-pom Transfer
Gross Motor Skill: Obedience
Suggested Activities:
• Bible Story Activities:
- ABC Book: Using the Robe worksheet and jumbo colored pencils, color the robe green. (For little hands, jumbo colored pencils are easier to hold.)

• Color Activities: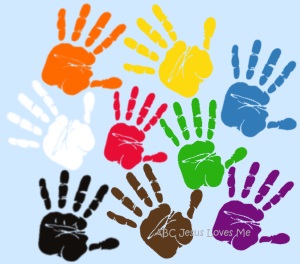 Handprint Wall - Add a green handprint to your color wall by painting the child's hand and stamping it onto a piece of paper. Write the name of the color on the handprint. Display it at the child's level to point and discuss the colors.

• Shape Activities: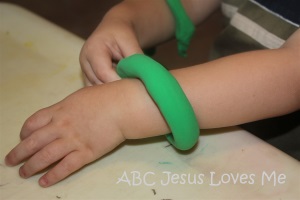 Play Dough Shapes - Roll green play dough into snakes and lay on the Square worksheet to form a square. Allow the child to play with the square as you discuss the shape.

• Animal Activities:
- Spread a thin layer of glue on the Turtle worksheet. Lay small green tissue paper squares on the turtle.
- Find pictures of turtles in the books that you read.

• Book of the Week Ideas:
- Continue to expand your child's vocabulary by teaching her the names of the object, animal, or emotion pictured. (Click to read more on teaching your child a new concept.)
- Look for items in the book that are square in shape.

• Fine Motor Skill: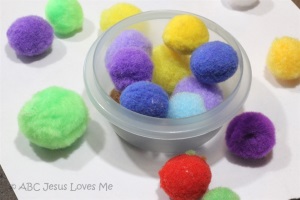 Pom Pom Transfer - Create a small pile of pom poms on the table or floor along side a shallow container. Demonstrate to the child how to pick up the pom poms and place them in the container.

• Gross Motor Skill:
Continue instructing the child to pick up her toys before getting out new ones. Assist the child in carrying the toys back to their resting place.