Our Terms and Conditions allow the online Lesson Plan and Worksheets to be used for immediate family, home use ONLY. Thank you for your honesty.

Items Needed:
Books: Bible; My Little Word Book; Brown Bear, Brown Bear, What Do You See?; When the Elephant Walks
Activities: Bean bags, stacking blocks
Objectives:

Character Scripture: Contentment
Philippians 4:11-12 (NIV) - I am not saying this because I am in need, for I have learned to be content whatever the circumstances. I know what it is to be in need, and I know what it is to have plenty. I have learned the secret of being content in any and every situation, whether well fed or hungry, whether living in plenty or in want.
Sign Language: Bye-Bye, Blow Kisses, More

Fine Motor: Stack Blocks
Gross Motor: Bean Bags
Suggested Activities:

• Review all objectives and books covered in the past weeks, and complete any activities that you were unable to finish.
• Visit a local library and discover some fun new books. Attend the toddler reading time if one is available.

• Taking Care of Me Activities: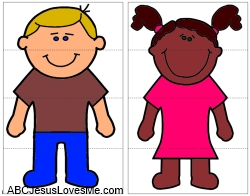 While standing in front of a large mirror, ask your child to point to her head, mouth, and ears.

• Fine Motor Skill:

Throughout the 1 Year Curriculum, one of the fine motor skills will be stacking 1" blocks. It is important to use the smaller blocks for development as they are more challenging for little hands. Begin this week with stacking two blocks. The child will work up to stacking seven blocks by the end of the curriculum. Count the blocks as you or the child add them.

• Gross Motor Skill:

Pick up bean bags and throw them.