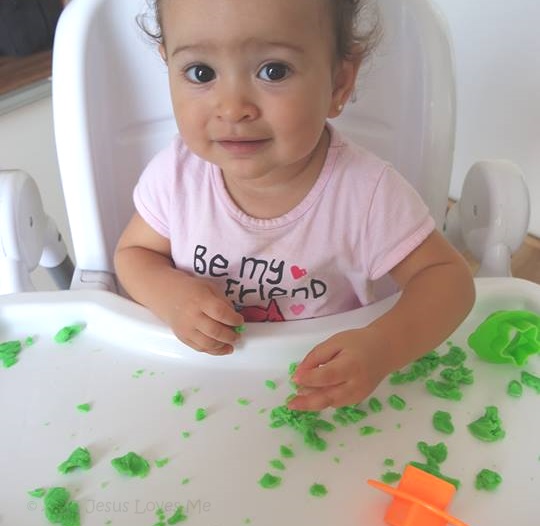 image shared by juliana

Written below are lists containing the craft supplies, supplemental materials, and books suggested throughout the 1 Year Curriculum. While the lists may seem daunting at first, I believe that you will find the vast majority of the supplies already in your home. If they are not, I suggest that these items be available for your child to use and play with to expose your child to many textures, activities, books, and play.
Items are divided into categories to make them easier to find and linked to Amazon so that you view a picture of each item. Most of these items should also be available at your local supermarket but may be substituted with other items on hand. View the 1 Year Lesson Plans to see how each item is used.
Again, do not get overwhelmed by this list. Substitute items and books with what you already have in your home.
*Books

Week 1

Bible (Read and Share Toddler Bible), My Little Word Book

Week 2

Brown Bear, Brown Bear, What Do You See?

Week 3

When the Elephant Walks

Week 5

Clifford the Big Red Dog, Big Red Barn

Week 6

Old MacDonald Had a Farm

Week 7

One Fish, Two Fish, Red Fish, Blue Fish

Week 8

Pat the Bunny

Week 10

Barnyard Dance

Week 11

Three Little Kittens

Week 13

Does a Kangaroo Have a Mother, Too?

Week 15

Dear Zoo

Week 16

Goodnight Moon

Week 17

Five Little Ducks

Week 18

Owl Babies

Week 20

Three Little Pigs

Week 21

Mr. Brown Can Moo! Can You?

Week 23

Moo, Baa, La La La!

Week 25

Guess How Much I Love You

Week 26

From Head to Toe

Week 27

The Very Busy Spider

Week 28

Five Little Speckled Frogs

Week 30

How Do Dinosaurs Say Goodnight?

Week 31

Giraffes Can't Dance

Week 32

Llama Llama Red Pajama

Week 34

The Very Hungry Caterpillar
*Cd's and Cd-Rom's

_______
The Bible songs chosen in this curriculum are old "Sunday School" favorites. If a song is not known, any Bible song may be used. Most songs can be found on Amazon through MP3 download or on several Bible Songs CDs available to purchase.
*Food

_______
Animal crackers
_______
Baking Soda
_______
Banana
_______
Cornstarch
_______
Food Coloring
_______
Empty Parmesan Cheese Container
_______
Ingredients for Brownies
_______
Ingredients for Cookies and Muffins
_______
Ingredients for Pizza
_______
Ingredients for Snack Mix
_______
Macaroni & Pasta
_______
Mini Marshmallows
_______
Pasta (macaroni, star, whole wheat, etc.)
_______
Peanut Butter
_______
Raisins
_______
Sugar or salt
_______
Vinegar
*Household Items

_______
Aluminum Foil
_______
Basket or container
_______
Bubble Wrap
_______
Clothes Pin
_______
Clothing
_______
Coffee Filter
_______
Cookie Cutters (oval, star)
_______
Cotton Balls, Swabs
_______
Cylinder Container
_______
Dry erase marker or Vis-a-vis Wet-erase
_______
Dry erase pocket or picture frame
_______
Flashlight
_______
Measuring Cups
_______
Music Cd or app
_______
Oval & Star Cookie Cutter
_______
Paint Stirrer
_______
Painter's Tape
_______
Pillows or cushions
_______
Ribbons or streamers
_______
Nylon Scarf
_______
Scrap Paper
_______
Shallow Container
_______
Shaving Cream
_______
Sponge
_______
Spray Bottle
_______
Straw
_______
String
_______
Tent or Blankets
_______
Toilet Paper Roll
_______
Yarn (yellow)
_______
Ziptop Bag