Thanksgiving Activities
•

Weeks 12 and 28 in the 4 Year Curriculum cover Thankfulness. Use activities in this week to celebrate Thanksgiving in your home.
•

Create a collage of items in which you are thankful. Draw or cut out pictures of the items and add the title "I am thankful for."

•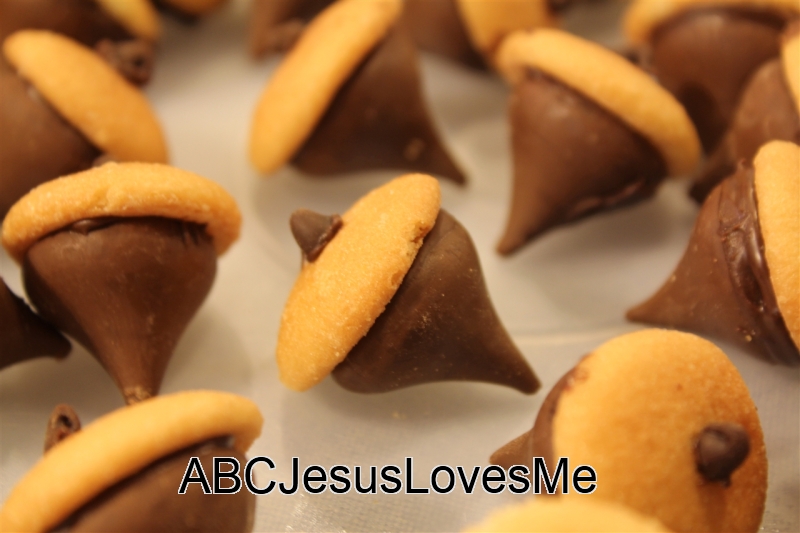 Acorns (Idea based upon SixintheSuburbsBlog)
Melt 1/2 cup chocolate chips in the microwave for 10 second intervals, stirring between each set. Unwrap the Hershey kisses. Lightly dip the kiss into the melted chocolate and then set on the Nutter-Butter or Nilla Wafer. Let sit to firm up. Then dip a mini chocolate chip into the chocolate and set on top.
Tips:
- The kisses will begin to melt in your hand very quickly so don't over handle.
- As we made the acorns, we placed them in a container that was sitting on two ice packs. This helped the acorns set up faster.
- Use only enough melted chocolate to make the pieces stick together. Otherwise the chocolate oozes out.
• Count Your Blessings:
Make a family tradition to have each person say one thing that they are thankful for before eating the Thanksgiving meal.
Thanksgiving Song
God is So Good (Traditional)

God is so good
God is so good
God is so good
He's so good to me
Optional verses (make up your own):
God cares for me...
God answers prayers...
I love Him so...
Additional Thanksgiving Ideas
For additional ideas check out the ABCJLM Thanksgiving Ideas page.