Preschool Christmas Activities
•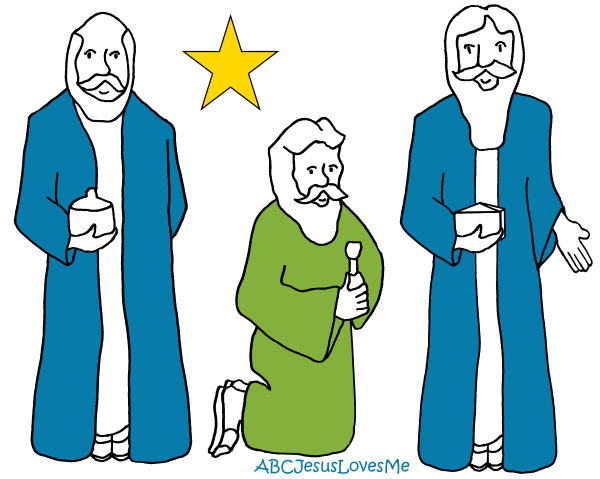 Week 18 in the 5 Year Curriculum covers Love and Jesus' Birth. Use activities in this week to celebrate Christmas in your home.

•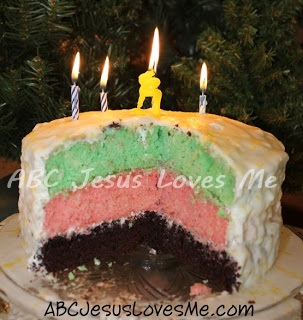 Make a Birthday Cake for Jesus
Ingredients:
3 layered round cake - red, green, and chocolate layers
White frosting
Yellow frosting
Candles

Directions:
To make the colored layers - mix a white cake according to the box/recipe directions. Divide the batter in half. Drop several drops of green food coloring in one half, and red food coloring in the other half. Pour each into 8" round cake pans and bake according to recipe directions. Also bake one 8" round chocolate cake.
When cooled, stack the chocolate layer, red layer in the middle, ending with the green layer with white frosting in between. Frost the entire cake with white frosting. Add yellow decorations and candles to the top.

Symbolism:
The chocolate layer reminds us that are heart is full of sin.
The red layer reminds us that Jesus shed His blood for our sins.
The white frosting reminds us that Jesus will forgive our sins and give us a clean heart.
The green layer reminds us to grow in Christ through praying, reading the Bible, and worshipping.
The yellow decorations remind us of heaven.
The candles remind us Jesus is the Light of the world.

Christmas Songs
Weeks 15-18 in the 5 Year Curriculum teach Christmas songs. Use activities in this week to celebrate Christmas in your home.
Additional Christmas Ideas
For additional ideas check out the ABCJLM Christmas Ideas page.