While some children have no trouble, many children struggle understanding facial expressions and emotions. This is especially true of children who fall under the autism umbrella and those with sensory processing disorder.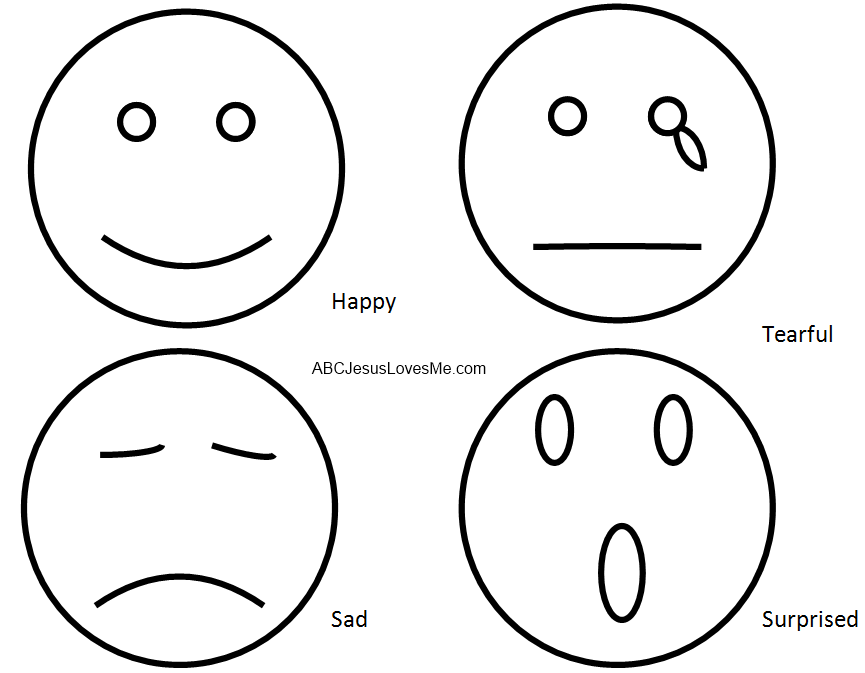 Color and cut out the faces of the Emotions Printable on cardstock or glue onto popsicle sticks for strength.
These cards can be used several ways:
• Imitate the face
• Talk about a time that you had this emotion
• Draw the face
• As you read a book or Bible story, choose the emotion each character is feeling
• Ask "How do you feel when…" questions
"How do you feel when..." Sample Questions:
You just found out that your grandparents are coming today and bringing you a very special surprise.
You dropped a big object on your foot.
Your little brother/sister broke a tower you just finished making.
You picked up all of your toys without being asked.
A group of friends won't let you play with them.
A friend calls and invites you to come over and play.
Some people you don't know are coming over today for supper.
Each question may have more than one answer. Have the child explain why they chose each emotion.
Books:
Reading picture books is an excellent way to teach emotions. Click to learn "How to Go Beyond the Story When Reading a Book." Here are three books to get you started.
*
Green Eggs and Ham
- Read information on how to use this book here .
*
Merry Christmas Big Hungry Bear
*
What Do You Do with a Grumpy Kangaroo - Tony must help a kangaroo deal with different emotions. Use the illustrations in the book to discuss various feelings. Match the Emotions Printable faces with the feelings the kangaroo experiences.
Songs:
If You're Happy and You Know It
(Thank you to Cindy for sharing this idea.)
If you're happy and you know it clap your hands (clap, clap) (Repeat 2x)
If you're happy and you know it then your life will really show it
If you're happy and you know it clap your hands (clap, clap)
Additional verse:
...angry…stomp your feet…
...tearful...dry your tears...
...sad...make a frown... (pull sides of mouth down into frown)
...surprised...raise your hands... (raise your eyebrows, open mouth wide, and put arms up)
...afraid...gasp/scream out loud...(cover or surround mouth with hands)
...angry...make a fist...(clinch both hands)