image by erin
In January 2009, I was exposed to a learning term on a personal level. We learned that there was a lack of communication between our oldest son's eyes and his brain. The optometrist explained that it isn't about 20/20 vision. Our son's eyes were doing exactly what they should be doing. What we were dealing with was a visual perception problem. A problem between what the eyes saw and how the brain was translating the information. As the optometrist put it, "The hardware is a there but there is a software problem." If a child does not interpret the information correctly, reading and writing may be close to impossible to do!
Immediately I began working on creating visual perception activities that we could use to help correct this problem. It was through these activities and worksheets (and prayer) that we were able to correct the visual perception problems that our son had and train the brain the correctly and effectively make sense of what was seen. The Visual Perception Worksheets are available by link in the Lesson Plans (for family use only) or in purchasing the Visual Perception Workbook. While one activity or worksheet may be difficult for your child, another may be simple. The worksheets in most of the categories increase in difficulty. Spend more time on areas with which your child is struggling.
Purchase the Visual Perception Workbook Buy Now
Also Read:
Block Activities
Block-to-Block Direct Match
Possible uses: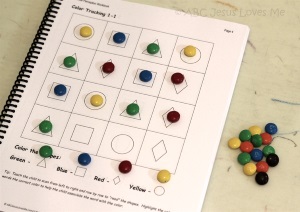 Using M&Ms, instruct the child to place the corresponding M&M's on the correct shape.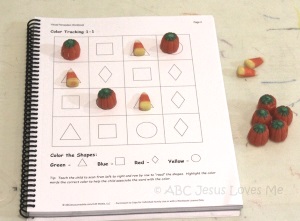 Using candy corn as triangles and candy pumpkins as circles, place the correct candy on the worksheet.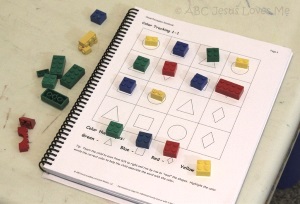 Using Legos, instruct the child to place the corresponding Legos on the correct shape.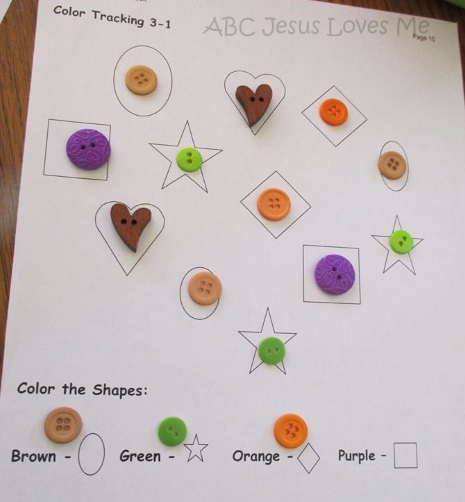 Using buttons, instruct the child to place the corresponding button on the correct shape. (Image shared by Jona)
Additional Ideas:

What's Missing Pictures
- Complete 2D shapes
- Complete Pictures
- Show only part of an object and have the child guess what it is

Object Pictures Matching - i.e., match a picture of fork with a real fork
Match shapes and pictures to silhouettes
Create a sequence and have the child repeat it.
Play Bingo
This page may contain affiliate links. Please read our disclosure policy.