Welcome to the Basic ABCJLM 1 Year Curriculum for family use! The following Lesson Plans and links are the basic and online form of the Complete 1 Year Curriculum and may be used in an immediate-family, home setting only. If you desire to use in a non-family situation, you may purchase Licenses here. Please read our Terms of Use for further information.
Introduction to Online 1 Year Curriculum:
Below is the first week's Lesson Plan of the Online 1 Year Curriculum for children 12-24 months in age.. Each Lesson Plan includes objectives to cover during the week and suggested activities to introduce the child to the objectives. Choose objectives and activities that are appropriate for the child and situation, and then incorporate them into the child's normal activities. Purchase the 1 Year Curriculum Guide and Workbook to access the Complete Curriculum.
Items Needed:
Included in the Complete 1 Year Curriculum Guide is a list of suggested items needed for the objectives in the Lesson Plan. These items may be substituted when needed.
Quickly Order 1 Year Curriculum Supplies in the ABCJLM Amazon Shop

Objectives:
The 1 Year Curriculum introduces the child to learning, and the objectives are the learning goals that you will introduce to the child over one week. All focused objectives do not need to be covered each day but can be spread throughout the week in the following manner. As much as possible, throughout the week pull the learning from the play and activities that the child is doing.

Bible Symbol: Animals
Bible Story: Noah's Ark
Scripture: Genesis 6-9
Read & Share Toddler Bible: pg 24
ABCJLM Interactive Bible Story
Bible Song: The B-I-B-L-E (Traditional)
The B-I-B-L-E (make book with hands)
Yes, that's the book for me (nod "yes")
I stand alone on the Word of God (pretend to stand firm)
The B-I-B-L-E
Bible! (shout)
Character Scripture: Salvation
Romans 10:9-10 (NIV) - If you declare with your mouth, "Jesus is Lord," and believe in your heart that God raised him from the dead, you will be saved. For it is with your heart that you believe and are justified, and it is with your mouth that you profess your faith and are saved.

Poem: Row, Row, Row Your Boat (Traditional)
Row, row, row your boat, (with the child on your lap facing you, rock from side to side)
Gently down the stream.
Merrily, merrily, merrily, merrily, (pat hands on legs)
Life is but a dream. (clap four times)

Color: Black
Shape: Circle
Animal: Raccoon
Taking Care of Me: Where is my head?
Sign Language: Bye-Bye - wave

Book of the Week:

My Little Word Book by Various Authors

Fine Motor Skill: Peek-a-boo
Gross Motor Skill: So Big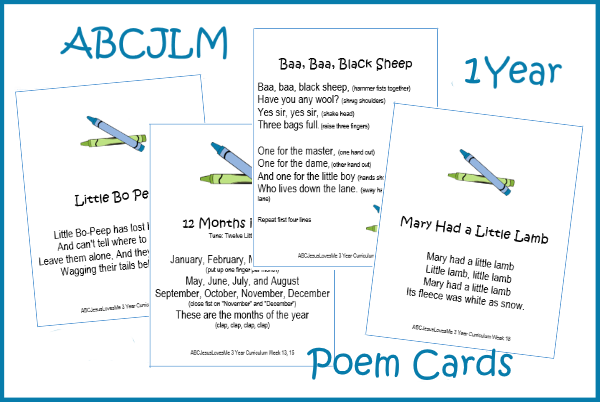 Complete Curriculum Addition: