Items Needed:
Books: Bible, Dear Zoo, Goodnight Moon, Five Little Ducks, Owl Babies
Activities: Rhythm sticks and drum, pipe cleaners, cornstarch, baking soda, food coloring, oval cookie cutter, straw, string, empty Parmesan cheese container
Objectives:

Character Scripture: Endurance
Philippians 4:13 (NIV) - I can do all this through him who gives me strength.

Sign Language: Stop, Book, Bath, Sleep
Suggested Activities:

• Review all objectives and books covered in the past weeks, and complete any activities that you were unable to finish.

•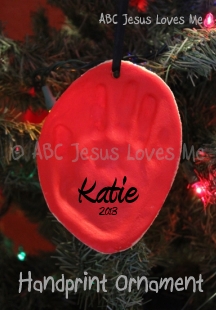 Handprint Ornament
There's nothing more precious than a child's handprint. Keep that memory by creating an ornament made of clay dough.

Mix together 1 cup baking soda and 1/2 cup cornstarch in saucepan. Add 3/4 cup plain or tinted (food coloring works well) warm water and stir until dissolved. Cook over medium high heat until it resembles play dough. Remove from heat and cool to touch. Kneed on lightly cornstarched surface until smooth and soft.

Roll to the desired thickness. Cut an oval with a cookie cutter. Use a straw to make a hole for hanging. Press the child's handprint onto an oval shape. Embellish, paint, emboss as desired.

Air dry for 24 hours turning once or twice to reduce curling. Hang with string.

• Taking Care of Me Activities:
Continue helping the child look a person in the eyes and state his first and last name.

• Fine Motor Skill: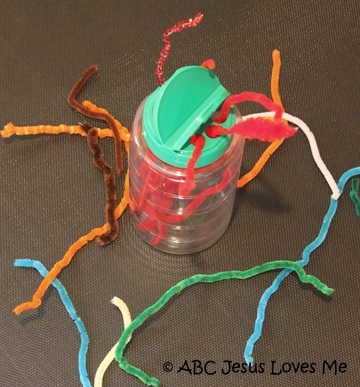 Pipe Cleaner Threading - Using an empty Parmesan cheese container or other cylinder container, demonstrate for the child how to thread pipe cleaners into the container. A Parmesan cheese container allows for three sizes of holes (without lid, pour, and sprinkle). Begin with larger holes and work toward smaller.

• Gross Motor Skill:

Using rhythm sticks and drums (or wooden spoons and pans), make music while singing this week's nursery rhyme and Bible song.