Our Terms and Conditions allow the below Lesson Plan and Worksheets to be used for immediate family use ONLY. Use beyond this is a violation.

Objectives:

Character Scripture: Endurance
Philippians 4:13 (NIV) - I can do all this through him who gives me strength.

Sign Language: Stop, Book, Bath, Sleep
Books: Dear Zoo, Goodnight Moon, Five Little Ducks, Owl Babies
Fine Motor: Pipe Cleaner Threading
Gross Motor: Rhythm
Suggested Activities:

• Review all objectives and books covered in the past weeks, and complete any activities that you were unable to finish.
• Taking Care of Me Activities:
Continue helping the child look a person in the eyes and state his first and last name.
• Optional Addition:
Each review week in the Complete 1 Year Curriculum includes ideas for field trips and making memories. Click to purchase the complete curriculum.

• Fine Motor Skill: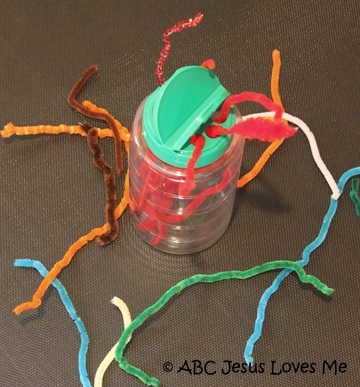 Pipe Cleaner Threading - Using an empty Parmesan cheese container or other cylinder container, demonstrate for the child how to thread pipe cleaners into the container. A Parmesan cheese container allows for three sizes of holes (without lid, pour, and sprinkle). Begin with larger holes and work toward smaller.

• Gross Motor Skill:

Using rhythm sticks and drum (or wooden spoons and pans), make music while singing this week's nursery rhyme and Bible song.