Items Needed:
Books: Bible; Three Little Pigs; Mr. Brown Can Moo! Can You?; My Little Word Book; Moo, Baa, La La La!
Activities: Red construction paper, assorted tissue paper, clear contact paper, scissors
Objectives:

Character Scripture: Wisdom
Proverbs 4:5-9 (NIV) - Get wisdom, get understanding; do not forget my words or turn away from them. Do not forsake wisdom, and she will protect you; love her, and she will watch over you. The beginning of wisdom is this: Get wisdom. Though it cost all you have, get understanding. Cherish her, and she will exalt you; embrace her, and she will honor you. She will give you a garland to grace your head and present you with a glorious crown.

Sign Language: Mommy, Daddy, Hot, Cold
Suggested Activities:

• Review all objectives and books covered in the past weeks, and complete any activities that you were unable to finish.

•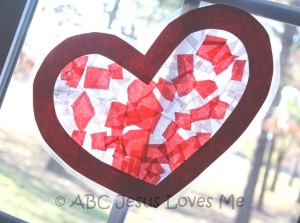 Contact Paper Heart
Fold a piece of red construction paper in half and cut out a heart. Set aside the outside paper. Leaving the heart folded, cut out a second heart by cutting parallel, 1" from the outside of the first heart. You are left with a smaller heart and a 1" wide heart frame. Set the full heart aside. Cut a piece of contact paper slightly larger than the heart frame. Peel off the backing of the contact paper and center the frame on the sticky side of the paper. Lay small squares of tissue paper inside the heart, on the sticky contact paper. When the heart is filled, lay a second sheet of contact paper on top of the heart (sticky sides together). Avoid wrinkles or air bubbles. Leaving a 1/4" border, cut away the excess contact paper. Hang on the window, or hole punch and hang with string.

• Fine Motor Skill: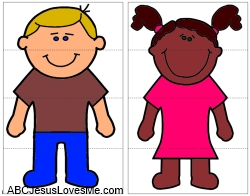 While standing in front of a large mirror, ask your child to point to her head, mouth, ears, eyes, nose, hands, finger, feet, toes, knees, and shoulders.

• Gross Motor Skill:
Adding to the obedience of stop and go, this week add "stay" and "come" playing a game similar to Red Light, Green Light. Tell the child to "stay" and "come" to see how quickly she can stop and go on the commands.