Our Terms and Conditions allow the below Lesson Plan and Worksheets to be used for immediate family use ONLY. Use beyond this is a violation.


Objectives:
Bible Symbol: Fish
Bible Story: Jonah
Scripture: Jonah 1:1-3:10
ABCJLM Interactive Bible Story

Bible Song: Jesus Loves Me (Traditional)
Jesus loves me! This I know,
For the Bible tells me so;
Little ones to Him belong,
They are weak but He is strong.

Chorus:
Yes, Jesus loves me!
Yes, Jesus loves me!
Yes, Jesus loves me!
The Bible tells me so.

Character Scripture: Responsibility
Colossians 3:23 (NIV) - Whatever you do, work at it with all your heart, as working for the Lord, not for human masters.

Poem: Pat-a-Cake (Traditional)
Pat-a-cake, pat-a-cake, baker's man.
Bake me a cake as fast as you can;
Roll it, pat it, and mark it with a B,
Put it in the oven for baby and me
Change the "B" to the first letter of the child's name and the word "baby" to the child's name.
Color: Blue
Shape: Star
Animal: Fish
Taking Care of Me: Where are my hands?
Sign Language: Please - spread your fingers and place your palm on your chest and rub in a circle

Book of the Week:

My Little Word Book by Various Authors

Fine Motor Skills: Fingerpaint
Gross Motor Skills: Rhythm Sticks and Drums
Suggested Activities:
• Bible Story Activities:
- ABC Book: Glue star-shaped pasta or cereal, or goldfish crackers on the Jonah and the Fish worksheet.

- Play a variation of Hide-and-Seek to help the child learn we can't hide from God. Have one person count to ten while everyone else hides. Each time the seeking person sees a "hidden" person, give him or her a hug and say, "God sees you and so do I." (Idea from Pray and Play Bible)

• Color Activities: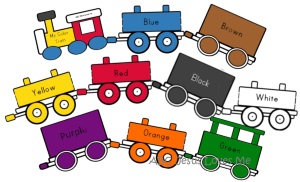 Color Train - Add a blue train to your Color Train by having the child color, with a jumbo crayon, the blue train. Display the train at the child's level to point and discuss the colors.

• Shape Activities: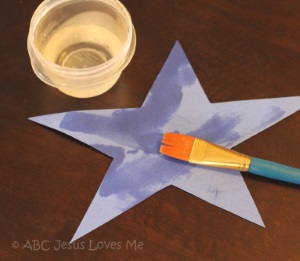 Using blue construction paper, cut out a large star. Using minimal water, have the child water paint the star. Talk about the shape as the child paints.

• Animal Activities:
- Using the Fish worksheet, explain how the fish uses its fins to swim around, but it doesn't have arms.
- Spread a thin layer of glue on the Fish worksheet. Lay small blue tissue paper squares on the fish.
- Find pictures of fish in the books that you read.
-
Read One Fish, Two Fish, Red Fish, Blue Fish

• Sign Language:
Before giving something to the child, take his hand, sign "please," and say the word "please."

• Book of the Week Ideas:
- Continue to expand your child's vocabulary by teaching her the names of the object, animal, or emotion pictured. (Click to read more on teaching your child a new concept.)
- Look for blue items in the book.

• Fine Motor Skill: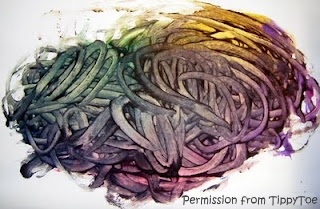 Fingerpaint with blue paint on a large piece of paper or cardboard. If you child puts his fingers into his mouth, make edible fingerpaint with yogurt or pudding and blue food coloring.

• Gross Motor Skill:

Using rhythm sticks and a drum (or wooden spoons and pans), make music while singing this week's nursery rhyme and Bible song.