Courage Activities:
-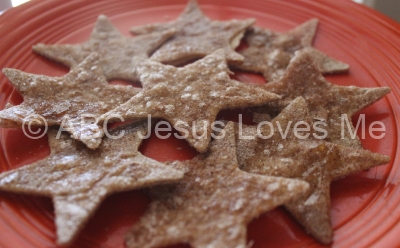 Cinnamon-Sugar Tortilla Stars 
(Esther means "star.")  Spread margarine on flour tortillas.  Sprinkle with cinnamon and sugar.  Using a star-shaped cookie cutter, cut stars out of a flour tortilla.  Bake approx 10 minutes in 350 degree oven until crisp. 
- It takes courage to stand up for what is right.  Discuss and role play examples of peer pressure and how to handle it.  For example:  Your brother told you to eat a cookie but you heard mom say earlier that the cookies are for after supper. 
- I Can Have Courage Because Jesus is Always with Me
(Have the child choose five things in the room to bring to you. Place the items in a small area on the floor and place a small blanket over the items.)
Can the objects be seen?  Are the objects still there even though they can't be seen?  How do you know that the objects are still there?  (Remove the blanket.) Just like our memory verse says, "When I am afraid, I will trust in you" because Jesus is always with us even though we can't see Him.
(With the objects gathered, turn this activity into a memory game. Without the child watching, remove one object. Have the child figure out which object is missing. For greater difficulty, remove more than one object or add similar items.)