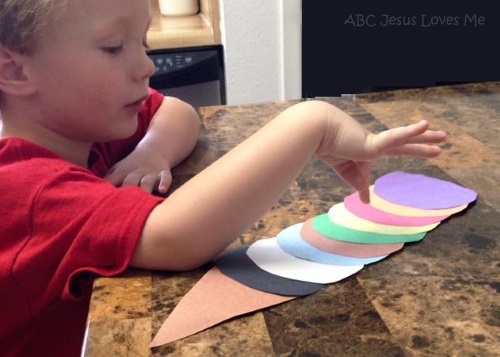 image shared by glenna
In education, teachers use pretests to determine what objectives need to be taught and post-tests to evaluate whether the concepts were learned. Below are assessment checklists that can be used to determine what your child knows and which curriculum to use. All are based upon the curriculum's academic objectives.

Ideas and More Information:
Use as a precursor to learning or as a checklist to determine the level of academic learning that has occurred.
Do not approach these as a test or call them a test. Strictly use these for your benefit to know what areas of learning still need to be addressed.
It may be best to complete this chart over several small units of time instead of in one sitting. Take your child's lead.
Collect the toys and manipulatives needed before beginning.
These worksheets are best printed in color. Ask the child the name of the shape as well as its color. They are also available to order in the Curricula Workbooks.
Circle or mark the answers that are incorrect.
Skip any sections which the child is unable to do. (i.e. If the child does not know the letters do not go through every letter to prove the point.)
Use different colored marking pens to denote what the child knew on the pretest vs the posttest. (Idea from Jessica)
Click to read more information about tracing letters and number on the Tactile Letters and Numbers and Learning to Write pages.
Click to read our Developmental Guides to know what is developmentally appropriate for your child's age.
If you are using the checklist to decide which curricula to use with your child, I suggest that the child know at least 75% of each section of the checklist before moving to the next curriculum. If your child seems to be in between two different curricula, I would suggest that you fall back to the curriculum that is a step below.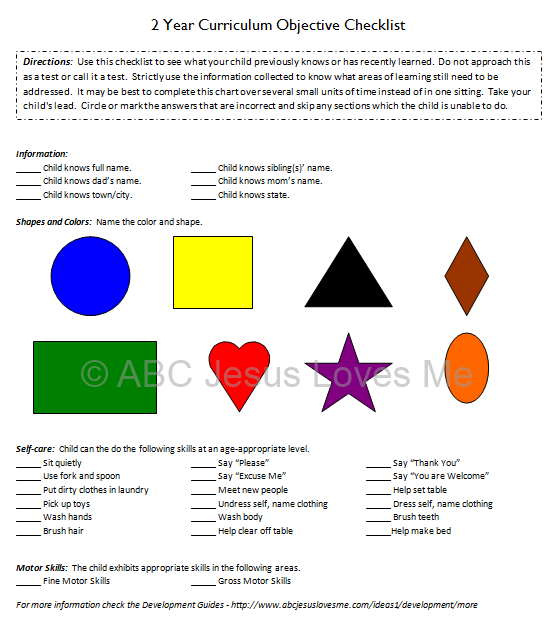 2 Year Objective Checklist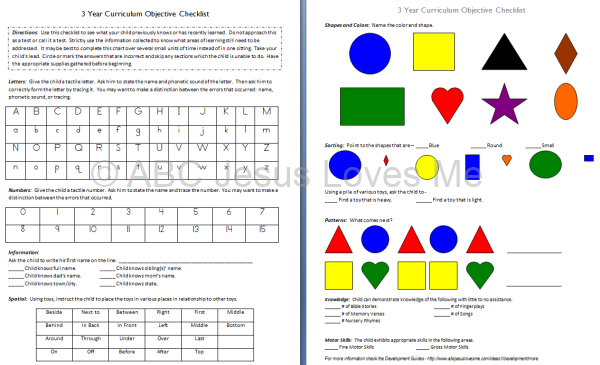 3 Year Objective Checklist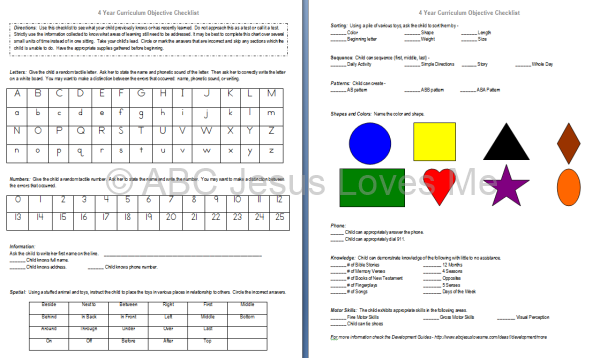 4 Year Objective Checklist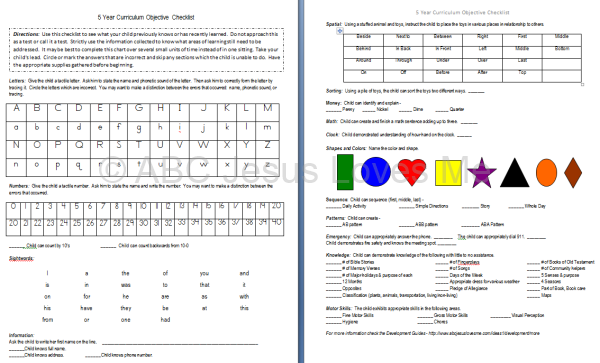 5 Year Objective Checklist