Flannelgraph on a Budget
If purchasing a flannelgraph set is not in the budget right now, discover how to create your own Bible visuals. One idea is to use illustrations from the ABCJLM Bible Activity Workbook or the Curriculum Workbooks. Read more...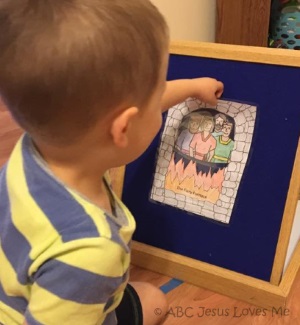 image shared by lindsey
Example Flannelgraph Bible Stories:
The ABCJLM Interactive Bible Stories digital downloads provide an age-appropriate script to actively involve the child in the story. Optional flannelgraph suggestions included. View for FREE:
Below are two videos of my children as preschoolers telling a Bible story using the Introduce/Practice/Identify teaching method and the Betty Lukens Flannelgraph.
This page may contain affiliate links. Please read our disclosure policy.