Our Terms and Conditions allow the below Lesson Plan and Worksheets to be used for immediate family, home use ONLY. Thank you for your honesty.


Items Needed:
Books: Bible, The Runaway Pumpkin
Worksheets:
CD: Hide 'Em in Your Heart Vol. 2
Games: Qwirkle
Activities:
Paint
Lunch size paper bag
Newspaper or grocery sacks
Green pipecleaner
Pumpkin
Pillows
Glue
Construction paper
Cotton balls
Objectives:
Theme: " Bee" Attitudes - Respect

Bible Story: 10 Commandments
Objective: We are to respect those in authority who create rules that keep us happy and safe.
Scripture: Exodus 20, Deuteronomy 5
My First Hands-On Bible:
pg 84-87
The Beginning Reader's Bible: pg 162
Through the Bible Felt: Story #36

Comprehension Questions:
Why did God give us the 10 Commandments?
How many of the 10 Commandments can you name?
Why are rules important?
What would the world be like without rules?
Which of the 10 Commandments is the hardest for you to obey?
Verse: Deuteronomy 5:16 (NIV) - Honor your father and your mother, as the Lord your God has commanded you.
Steve Green - Hide 'Em in Your Heart Vol. 2 - #6
Bible Song: God Loves Kids
Tune: Three Blind Mice
God loves kids (repeat 4x) (point up, cross arms over chest, point at self with thumbs)
He loves me more than I can know (cross arms over chest, point to head)
I don't know why He loves me so (shake head and shrug)
I guess I'll never, ever know (cross hands in front)
Why God loves kids (point up for God, cross arms over chest, point to self with thumbs)
Books of the Bible: Esther, Job
Math : Sorting
Science : Hygiene - Brushing Hair
Social Science : Helping - Set the Table
Letters: C, c
Numbers: Point to and Count 0-15
Literacy: Character
Sight Word: in

Book of the Week:

The Runaway Pumpkin by Kevin Lewis

Fine Motor Skill: Pumpkin Carving
Gross Motor Skill: Crawling
Visual Perception Skill: Matching Worksheets

Suggested Activities:
• Bible:
- On the 10 Commandments worksheet, color Moses. Then glue torn pieces of construction paper on the mountains and tablets. Glue cotton balls on the clouds. Spread this activity over a few days if needed.

-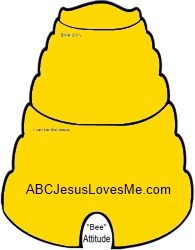 In the top tier of the "Bee" Attitude worksheet, have the child write the attitude of the week. In the next tier, have the child draw a picture of the Bible story. In the bottom tier, ask the child to draw a picture of himself having this attitude.

- Discuss How to Show Respect:
Using good manners - saying please, thank you, excuse me
Not hitting or hurting others
Talking about your problems instead of just reacting
Treat others as you want to be treated

- Teach Small Children to Look People in the E ye
We require our children to look people in the eye when they are being talked to or when having a conversation. This helps in showing respect as well as listening. But, it requires courage. It starts by requiring it at home. Then work on eye contact with family and friends. Simply reminding your child to look at the person talking to them is setting a positive foundation.

-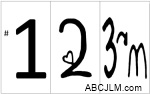 Use the 10 Commandments Clues (available online only) to help your child remember the commandments and their order.

-
The Ten Commandment Boogie - Our kiddos love this song by Go Fish.
-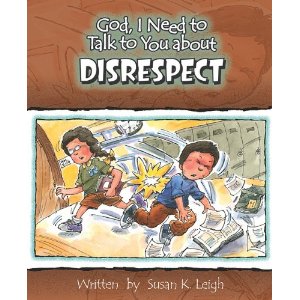 Read God, I Need to Talk to You About Disrespect by Susan K. Leigh.

- Click for more 10 Commandments Ideas...

- The "Who and How" Chart - This would be a great family activity to help children focus on respect. From Value Parenting (reprinted with permission)
Set up a chart like the one illustrated below. Using the left-hand column, ask children to list the categories of people and things that deserve respect. As you list them one at a time, discuss how respect for that person or thing can be effectively given. (E.g., for "Mother" - by "answering respectfully," "by obeying her," "showing appreciation for what she does," "opening door," "holding her chair," etc. For "Nature" - by "preserving and protecting," "clearing and cultivating," etc. For "Self" - by "avoiding self-criticism," "thinking about positive attributes," etc.) Keep the list building as long as you can keep children's interest.
Respect Chart
WHO HOW
Mommy Obey, talk respectfully
Nature Throw away trash, recycle
Self Eat healthy, exercise

• Math: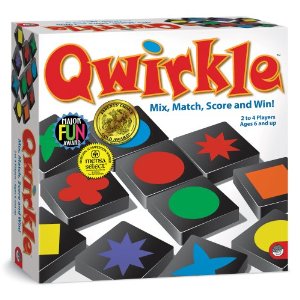 Qwirkle is one of our favorite games to play as a family and is an excellent game to teach sorting as groups can be created by color or by shape. Since the actual rules of the game are too hard for five-year-old children, adjust accordingly.
- Game #1
In this game, there is no competition or winner as each person is simply sorting. Have all player draws six squares. Choose a person to go first.
On your turn, lay a row of tiles on the table that are the same in color or shape. Try to create the longest line possible. Either add to another person's existing line or create your own.
• Social Science:
-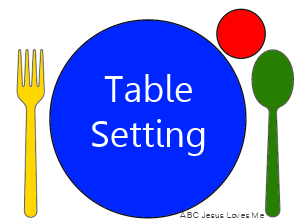 Place Settings:
One of the contributions that a child can make to a family is to help with chores. (Helping around the house while having a happy heart is another way to show respect.) Setting the table is a relatively easy task. Start with a few item and then increase to more. Use the Place Setting worksheet to teach the child where the objects go. If your tableware is relatively the same size as the worksheet, place a copy of the worksheet at every place setting. Cover the worksheet with clear contact paper to use as a place mat and have the child simply lay the object on the printable to match the worksheet.

- Adding Food and Condiments to the Table
Train the child to figure out what is needed on the table depending on what you are eating. For example, if you are eating hamburgers, your family may always use ketchup, mustard, and pickles. After explaining to the child what the meal consists of, ask the child, "What do we need on the table?".

- Points of Grace: Perfection is not the goal. Train the child and remember to be realistic about the abilities of a five-year-old child. Give grace!
• Science:
Depending on the gender of the child and length of his/her hair, brushing hair can be relatively easy or more difficult. Remember that the goal is to start learning the task; not master it immediately. Be sure to have a good comb or brush. Help them use a spray bottle if needed. Teach them how to mist the hair and not spray in one concentrated place.
• Letters:
Use the Cc Writing worksheet and for further learning check out the Letter C Activities.
• Numbers:
Gather fifteen Qwirkle squares. Point to and count from 0-15. Make sure that each item is pointed and counted only once.

• Literacy:
- The characters are whom the story is about. Character may be people, animals, or things. Discuss the characters in The Runaway Pumpkin.

• Book of the Week:
-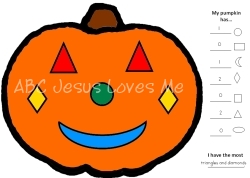 Have the child color, count, and write the number of shapes on the lines of the My Shape Pumpkin worksheet. Later in the week, allow the child to create her own Shape Pumpkin on a separate sheet of paper. (Adapted from Mrs. E)

- Make pumpkin bread, pie, or other pumpkin recipes.

- Have the child read the repeated line "'Round, and 'round, across the ground..." with you and find the rhyming words.

-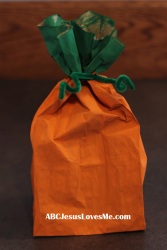 Paint a paper lunch bag orange on all sides, leaving the top two inches to paint green. Let dry. Stuff with crumpled up newspaper or grocery sacks. Tie off the top with a green pipecleaner and twist as the vine.
• Fine Motor Skill: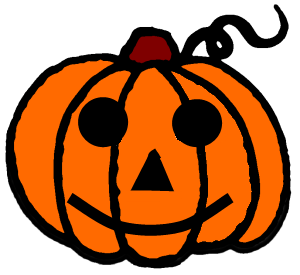 Carve a pumpkin making the face out of various shapes learned. Use this time to review shapes and spatial words. Allow your child to dig out the seeds. Afterwards count out groups of seeds. Encourage your child to pick up the seeds using their thumb and index fingers. Make pumpkin seeds together afterwards!

• Gross Motor Skill:
Place pillows, couch cushions or anything soft on the floor for your child to crawl over. Have fun making mountains and climbing peaks! If the weather is nice, rake a big pile of leaves. Pretend you are Moses climbing Mount Sinai to receive the 10 Commandments. Act out the narrative between God and Moses and discuss God's holiness and goodness.
• Visual Perception Skill: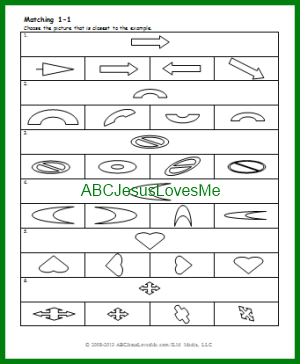 This week focus on the Matching Visual Perception worksheets and ask the child to choose from four pictures the one that most looks like the sample picture. Additional worksheets available in the ABCJLM Visual Perception Workbook.