Our Terms and Conditions allow the below Lesson Plan and Worksheets to be used for immediate family, home use ONLY. Thank you for your honesty.


Items Needed:
Books: Bible, Mercy Watson to the Rescue, Going to the Doctor, My Doctor, My Friend

Worksheets: Write Numbers 0-25, Vv Writing, Nickel, Book Summary, Boy or Girl, Gospel of Peace, Mercy Watson Maze, Breastplate of Righteousness
Activities: Pennies and nickels, shredded paper or oatmeal, make homemade butter, two dolls, gauze, cotton balls, bandaids, ace bandages, aluminum foil, toast, butter, doctor play set, A-B-C and 1-2-3 Cutter Set, play dough, Finger Jello or cookie dough, Block Activity, magnifying glass
Objectives:
Theme: Armor of God
Bible Story: Breastplate of Righteousness, Gospel of Peace
Objective: The purpose of the Breastplate of Righteousness, Gospel of Peace.
Scripture: Ephesians 6:11-15

Comprehension Questions:
What does the Armor of God do for us?
What does the breastplate cover?
What is righteousness?
What is the Gospel?
How does the Gospel give us peace?
What do the Gospel of Peace shoes help us tell others?
Verse: Mark 16:15 (NIV) - Go into all the world and preach the Gospel to all creation.
Tune: London Bridges
Go- into all the world, all the world, all the world
Go- into all the world and preach the Gospel.
Mark 16 verse 15, verse 15, verse 15
Mark 16 verse 15, preach to all creation.
Bible Song: O Be Careful - YouTube
O be careful little eyes what you see (point to eyes)
O be careful little eyes what you see
For the Father up above (point up for Jesus)
Is looking down in love (put hand to eyes and look down)
O be careful little eyes what you see
Additional Verses:
…little hands what you do
…little feet where you go
…little ears what you hear
…little mouth what you say
…little mind what you think
Books of the Bible: Ezekiel, Daniel, Hosea
Math : Money - Nickel
Science : Safety - Medical
Social Science : Helpers - Medical
Letters: V, v
Numbers: Write 0-25
Literacy: Beginning, Middle, End
Sight Word : as

Book of the Week:

Mercy Watson to the Rescue by Kate DiCamillo

Fine Motor Skill: Cookie Cutters
Gross Motor Skill: Simon Says
Visual Perception Skill: Block Activity

Suggested Activities:
• Bible:
- Breastplate of Righteousness
Breastplate - covers and protects the heart
Righteousness - doing what is right
By doing the right thing, you can keep sin away from your life.

Cut out the Breastplate of Righteousness worksheet and color the heart red. Glue small pieces of aluminum foil on the breastplate around the heart.

- Gospel of Peace
When we understand the Good News (Jesus died for our sins, arose from the grave, and is in Heaven preparing a place for us), then we have peace and do not need to be afraid. Ephesians 6:15 says, "For shoes, put on the peace that comes from the Good News so that you will be fully prepared." We can take a step without fearing of what will happen because we know God is in control. With the shoes on we can tell others the Gospel and Good News of Jesus.

Color the Gospel of Peace Shoes worksheet. Poke out the holes and help the child lace with a string and tie.

• Math:
The nickel is worth 5 cents (1/20th of a dollar). The nickel contains the profile of Thomas Jefferson, the third President of the United States. The back of the nickel has a picture of Monticello, Jefferson's house near Virginia. "E PLURIBUS UNUM" means "Out of many, one." Examine the coin with a magnifying glass.

- Questions:
What shape is this coin?
What color is this coin?
Who is on the front of this coin?
What is on the back of the coin?
Where is the value of the coin printed? Point to where it is printed.
Is the edge of the coin smooth or ridged?

- Rhyme : (Original Author Unknown)
Nickel, nickel, thick and fat,
You're worth five. I know that.

- Coin Rub: Tack down two nickels - one heads up, one tails up. Place a piece of paper over the coins. Using a silver crayon, color over the coins to make an impression.

-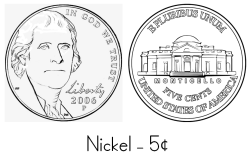 Color the Nickel worksheet silver.

- Find a Coin: Hide a few pennies and nickels in a tub of shredded paper or oatmeal. Have the child name the coin and say the correct rhyme for the coin found.

• Science:
Taking safety precautions can keep accidents from happening. Each day, discuss a few of the following examples explaining why each of these is important to keep you safe. Roll play with two dolls making the child be the "adult" doll. Have the "child" doll break safety rules and ask the "adult" to explain to the "child" why the choice is not a good one. To end each day, have the child draw a picture of himself doing something safe.
- Always correctly wear a seatbelt
- Stay away from moving vehicles
- Only cross a street with an adult
- Never run in parking lots
- Never chase a rolling ball into a street or parking lot
- Never swim or go into water without an adult with you
- Do not run around swimming pools or boat docks as the surface may be slick
- Do not dive or jump into shallow water
- Wear sunscreen in the sun
- Wear a life jacket when in a boat
- Wear a helmet while biking
- Never eat or drink something that you are unsure what it is as it could be medicine or a cleaning product
- Do not touch knives or sharp objects
- Stay away from fire, stoves, and other hot surfaces
- Never play with matches, lighters, or fire
- Guns are not toys and should only be handled with the assistance of an adult
- Cut food into small pieces and chew each bite well
- Never climb on an unsteady surface or something on wheels

• Social Science:
-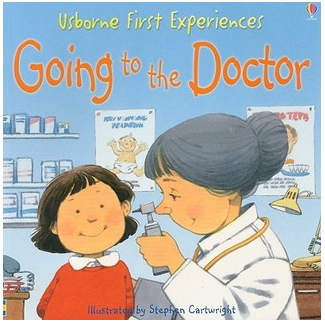 Read Going to the Doctor by Anne Civardi and
My Doctor, My Friend
by P. K. Hallinan

- Play doctor with a Doctor Set
and Doctor Costume. Doctor another person or stuffed animal. Bandage with ace bandages. Have a pretend doctor visit by taking the child's weight, temperature, and height. Ask the child fun doctor-type questions.

- Doctor's Supply Art
"Bandage" the Boy and Girl worksheet with bandaids. Glue on gauze and cotton balls.

• Letters:
Use the Vv Writing worksheet and for further learning check out the Letter V Activities.
• Numbers:
Practice writing numbers 0-25 using the Write Numbers 0-25 worksheet. Fill in the missing numbers.

• Literacy:
Using the Book Summary worksheet, draw pictures to represent the beginning, middle, and end of Mercy Watson to the Rescue.

• Book of the Week:
- Teach the child to make buttered toast. Use this time to explain that you never stick a knife in a toaster that is plugged in.

- Make homemade butter. Google for directions.

- Play tag and pretend you are Mercy running away from the people.

-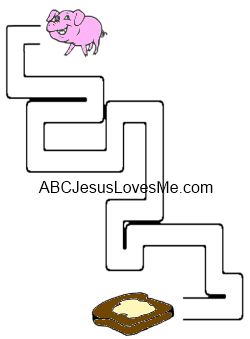 Help Mercy Watson find his toast in the Mercy Watson Maze.

• Fine Motor Skills:

Using play dough, finger Jello, or cookie dough, make letter or number cut outs with ABC/123 cookie cutters or roll the dough into ropes and snake it into the correct shape.
• Gross Motor Skills:
Play "Simon Says" using different gross motor movements and activities.
• Visual Perception Skill:


Block Activity