Jesus Heals the Little Girl Interactive Bible Story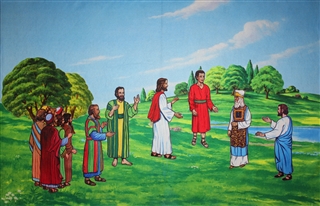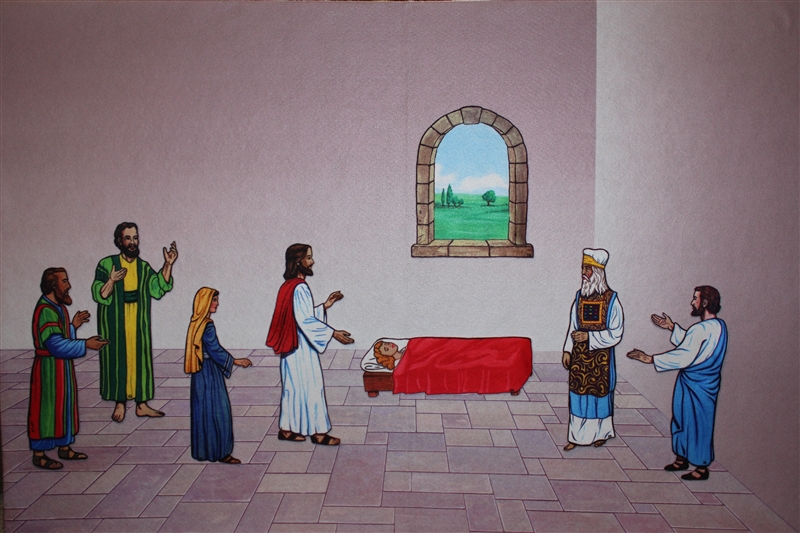 This story is free for family use only and may not be used in any form in a non-family situation.  A script of this story for non-family use is available in the New Testament Curriculum, 3 Year Interactive Bible Stories, and 4 Year Interactive Bible Stories.  
Flannelgraph Needed:
Water Board
Room Board
Green Bottom
S4 – Hill with Trees
S8-9 – Two Trees
1 – Jesus
28 – Simon Peter
32 – James
36 – Jairus
54 – Messenger
63 - John
87 – Group
102 - Mother
122 – Girl (Head)
229 – Bed
230 – Window

On the Water Board – Green Bottom, S4, S8-9, 1, 28, 32, 63, 87
On the Room Board – 102, 122, 229, 230
Have in Order – 36, 54
Bible Story:
(Water Board)

In Mark 5:21-42 (point to the passage in a Bible), the Bible says that a large crowd gathered around Jesus on the shore of the lake.  A man named Jairus came up to Jesus.  Can you say Jairus?  Falling on his knees he pleaded with Jesus to heal his little girl.  "My daughter is so sick.  Jesus, please come to my house and place your hands on her.  Please heal her so that she can live."
Jesus and a few disciples left to go with Jairus to his home.   But before they arrived a messenger met them.   "Jairus' daughter is dead.  There is no reason for Jesus to come to the house.  It is too late."  But Jesus ignored the comment and said to Jairus, "Don't be afraid.  Trust me!"
(Change to Room Board; Move Jesus, Jairus, John, Peter, and James to new board)
When they arrived at Jairus' house, there were a lot of people crying because the little girl was dead.  Jesus asked, "Why is there so much crying?  The child isn't dead; she is only sleeping."  The people thought Jesus was joking and laughed when He said that she was only sleeping.  But Jesus said, "Hold her hand and say to her 'Get up, little girl."  They did exactly what Jesus said.
The twelve year old girl immediately stood up and walked around.  Her mother and father were so very happy that their daughter was now alive.  Thank you, Jesus, for healing Jairus' daughter!