Items Needed:
Books: Bible, Franklin Goes to School, Big Thoughts for Little People
CD: Hide 'Em in Your Heart Vol. 2
Games: Alphabet or Number Memory
Worksheets: Visual Perception Worksheets, My Black Book, 1" Tracing Paper, Paul and Silas in Jail
Activities: Shallow plastic cups (0-20), small items to fill cups, tying shoelaces, bat, large ball, tweezers or tongs, one over-ripe banana, colored pencils, one nice banana, Pragmatic Activity, Children's Safety Scissors
Objectives:
Character Trait: Joyful
Definition: A deep feeling of happiness no matter what happens
Opposite: Pouting, sad
Big Thoughts for Little People: Letter J
Bible Story: Paul & Silas in Jail
Objective: In bad situation, I can have joy because Jesus loves me.
Scripture: Acts 16:22-34
The New Bible in Pictures for Little Eyes: pg 380
The Beginner's Bible: pg 500
Through the Bible in Felt: Story #172

Comprehension Questions:
Why were Paul and Silas in jail?
What were Paul and Silas doing while in jail?
What caused the doors to come open?
Because Paul and Silas were joyful and obeyed, what did the jailer do?
Paul and Silas felt better when they sang songs to God. Tell me about a time that you felt sad or scared and you sang.
What song do you sing when you are sad or get scared?
Verse: Proverbs 17:22 - A joyful heart is good medicine.
Steve Green - Hide 'Em in Your Heart Vol. 2 - #16
Bible Song: I've Got the Joy in My Heart (Traditional)
I've got the joy, joy, joy, joy down in my heart
Where?
Down in my heart!
Where?
Down in my heart!
I've got the joy, joy, joy, joy down in my heart
Down in my heart to stay
And I'm so happy
So very happy
I've got the love of Jesus in my heart
Down in my heart
And I'm so happy
So very happy
I've got the love of Jesus in my heart.
Additional Verses:
I've got the love of Jesus, love of Jesus...
I've got the peace that passes understanding...

And if the Devil doesn't like it
He can sit on a tack!
Ouch!
Sit on a tack!
Books of the Bible: Jude, Revelations
Math: Tying shoelaces
Letters: Writing letters Aa-Ii

My Color Book: Black
Pragmatics

Book of the Week:

Franklin Goes to School by Paulette Bourgeois

Fine Motor Skill: Pick Up Small Objects
Gross Motor Skill: Bat the Ball
Visual Perception Skill: Connect the Dots Worksheets
Suggested Activities:
• Character Trait:
- Make a tambourine using two paper plates. Place a few dried beans on top of the one plate. Place the other plate upside down on top of the first plate. Staple the plates together. Decorate and write the memory verse on one side.

-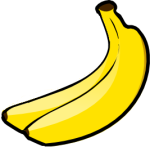 Fruit of the Spirit (reprinted with permission)
Preparation: For the story, bring in a ripe banana that looks really yummy and a rotten banana.
If I offered you this piece of fruit (holding up the rotten banana), would you like to eat it? (Let the child answer.) Of course you wouldn't. This banana is yucky and rotten. We want to throw that banana away. What if I offered you this banana (holding up the ripe banana)? Would you like to eat this one? (Let the child answer). I bet you would like to eat this banana. It is yellow and ripe, and probably tastes really yummy. Our life is like these two fruits. On one hand, we have people who do bad things and make us feel sad. While on the other hand, we have people who like to do good things, like help others and be nice to others. Which fruit do you think God wants us to be, the rotten banana or the ripe banana? (Let the child answer.) We have been talking each week about character traits. Let's think back to some of the ones that we have talked about. (Let the child answer.) Paul writes in Galatians 5:22–23, "But the Holy Spirit produces this kind of fruit in our lives: love, joy, peace, patience, kindness, goodness, faithfulness, gentleness, and self-control." Do you notice how several of the character traits that we have been learning about are listed as the Fruit of the Spirit in Galatians 5:22-23? God wants us to be good fruit. Paul talks about the way Christians should treat others and how we should do things that make God happy!
Questions:
- How does God want us to treat other people? (He wants us to be kind and help others.)
- Why don't we want to be rotten bananas? (Rotten bananas are like people who try to hurt others and are not nice to us.)
- Who tells about the Fruit of the Spirit in the Bible? (Paul or the Bible tells us the things we should do to be good to other people.)

• Bible:
-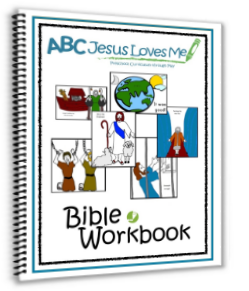 ABCJLM Bible Workbook: Color the Paul and Silas in Jail worksheet with colored pencils.

-

Jail Handcuffs and Ball and Chain Craft
Make a paper chain and add a balloon on the end. Place the chain around the child's ankles. Create another paper chain and use as handcuffs. Discuss how it must have felt to be in jail.
• Math
Continue helping the child tie his shoes by moving on to the next steps as he is ready.

• Letters:
- Play Alphabet and/or Number Memory. Say the name, sound, or a word that begins with that letter each time you flip over a card.

- On 1" Tracing Paper, have the child write letters Aa-Ii. Draw a box for each letter and add the green and red dots if needed. ABC Uppercase and Lowercase worksheets available in the ABCJLM Handwriting Workbook.

• My Color Book:
Cut, color, and finish the My Black Book. Help the child read the lines.

• Pragmatic Activity
Pragmatics is the study of language in a social setting. Included in the 4 Year Curriculum are suggestions to help a child use language appropriately in social situations. Select one or more of the example pages to discuss.

• Book of the Week:
- Kindergarten can be a scary step for children. Reading book, talking about fears, and praying with your child can help ease the fear and help the child be excited to start school. Use this book to begin the discussion.

- Vocabulary: boast, clutch, offer, worry, ruler, proud, aboard, fidget

• Fine Motor Skills: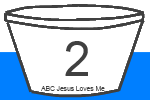 Using shallow cups, write a number 0-20 on each cup. Have your child fill each cup with the correct number of chocolate chips, buttons, coins, candy, or other small items. Encourage the child to pick up each item with her thumb and index finger. Set the timer and try to put the small items into a cup in a short amount of time. For additional practice, have the child pick up the small items with a pair of tweezers or tongs. Cosmetic tweezers may be harder to use so consider using a plastic sets that come in science or
doctor set or use kitchen tongs.
• Gross Motor Skills:


Practice batting a ball using a beach ball or other large ball. The larger the ball and bat, the greater chance of accuracy.
• Visual Perception Skill:
This week focus on the Connect the Dots Visual Perception Worksheets and copy the lines by connecting the correct dots. Worksheets are available by clicking the links below or in the ABCJLM Visual Perception Workbook available to purchase. The worksheets increase in difficulty.