Our Terms and Conditions allow the online Lesson Plan and Worksheets to be used for immediate family, home use ONLY. Thank you for your honesty.


Items Needed:
Books: Bible, The Kissing Hand
CD: Hide 'Em in Your Heart Vol. 1

Worksheets: My White Book
Activities: Tying shoelaces, Safety Scissors, construction paper, Block Activity, heart stamp or sticker, pompoms, Pony Beads, Solid Suede Lace or pipecleaners, legos, fingernail polish
Objectives:
Character Trait: Faith & Trust
Definition: Believing God will do what He says, believing in something that you cannot see
Opposite: Disbelief, not trusting, hopeless
Bible Story: Wordless Book
Objective: For the child to be able to tell the Wordless Book story by himself.
Verse: Acts 16:31 - Believe in the Lord Jesus Christ and you will be saved.
Steve Green – Hide 'Em in Your Heart Vol. 1 - #9

Bible Song: Awesome God - YouTube
Our God is an awesome God (point up, thumbs up, point up)
He reigns from heaven above (rain hands down, hands raised)
With wisdom, power, and love (point to head, show muscles, cross arms in front of body)
Our God is an awesome God (point up, thumbs up, point up)
Math: Tying shoelaces
Letters: Writing letters Jj-Qq
My Color Book: White

Book of the Week:

The Kissing Hand by Audrey Penn

Fine Motor Skill: Cutting
Gross Motor Skill: Follow the Leader
Visual Perception Skill: Block Activity
Suggested Activities:
• Character Trait and Bible:
- Read the Wordless Book Story
-

Wordless Book Bracelet
Using Pony Beads and Solid Suede Lace
or pipecleaners, create a bracelet. Put the beads in order of the book's pages.
- For boys: Tell the story using colored legos or M&M's.
For girls: Tell the story using fingernail polish. Paint each finger a color of the Wordless Book. (Original Source Unknown )
- "Wordless Book" Song by Frances M. Johnston
(Use a Wordless Book or Gospel Fuzzies Glove to show the colors as you sing.)
(Black) My heart was dark with sin
until the Savior came in.
(Red) His precious blood I know
(White) Has washed it white as snow.
(Gold) And in His Word I'm told
I'll walk the streets of gold.
(Green) To grow in Christ each day
I read the Bible and pray.
(Listen - the last two lines are different in this YouTube video)
- "Gospel Fuzzies" (Author Unknown)
Learn the tune and then change the words to match the Wordless Book. Here is my example.
We're the Gospel Fuzzies (3x)
And we'll tell you the Good News.
Black means I'm a sinner (3x)
And I can't get in.
Red means Jesus died (3x)
And He rose again.
White means I'm forgiven (3x)
When I trust in Him.
Gold stands for Heaven (3x)
Where I want to go.
Green means I am growing (3x)
If I read and pray.
- More ABCJLM Wordless Book ideas...
- Unsure of how to become a Christian? Bridge of Life

• Math:
Continue helping the child tie his shoes by moving on to the next steps as he is ready.

• Letters:
On 1" Tracing Paper, have the child write letters Jj-Qq. Draw a box for each letter and add the green and red dots if needed.
ABC Uppercase and Lowercase worksheets available in the ABCJLM Handwriting Workbook.

• My Color Book:
Cut, color, and finish the My White Book. Help the child read the lines.

• Book of the Week:
-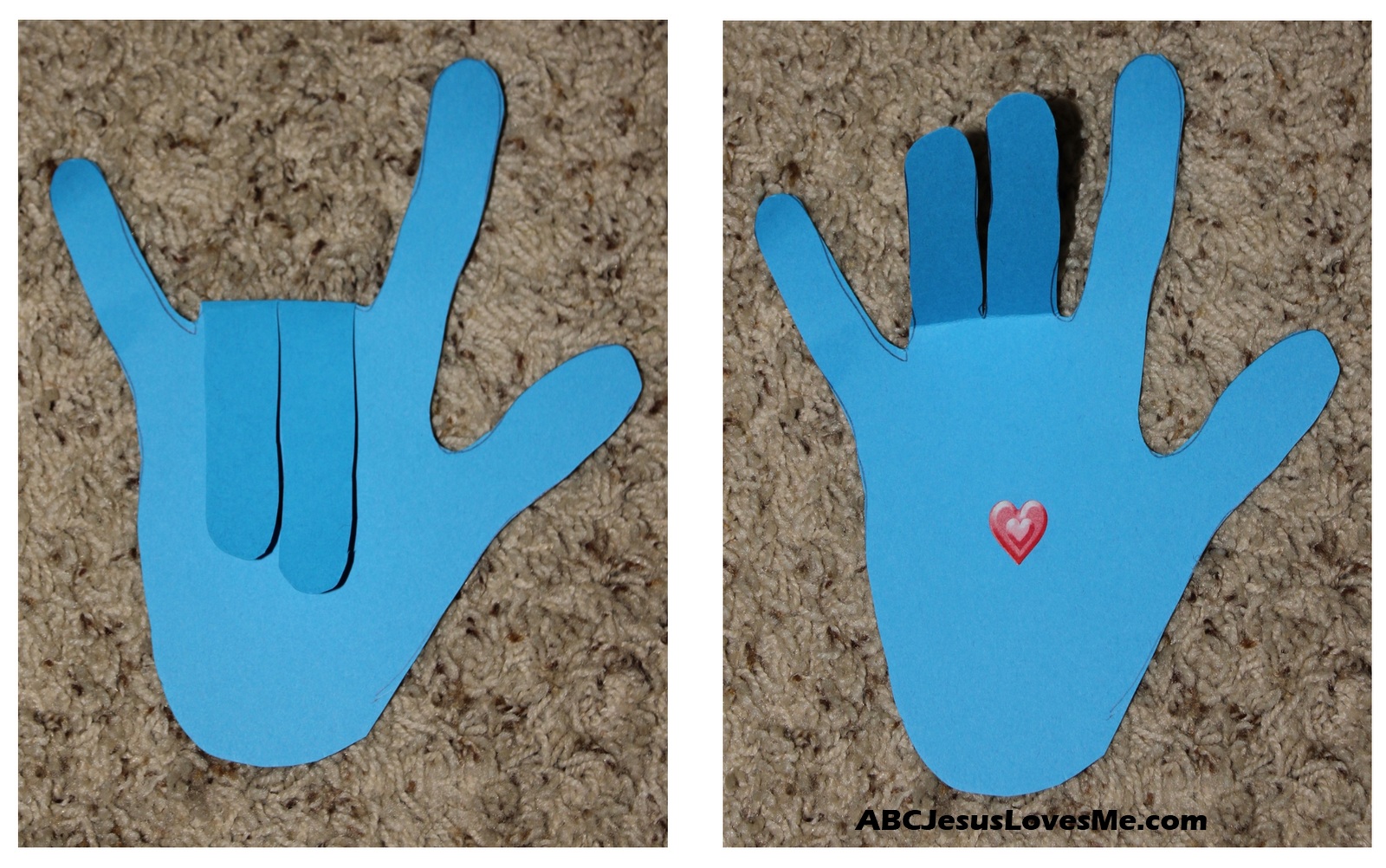 Trace the child's hand and cut out. Place a heart stickers or stamp in the palm of the drawn hand. Press down the middle and ring finger. Explain to the child that this sign means "I Love You" in sign language.

• Fine Motor Skills: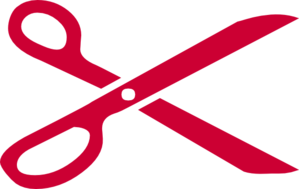 "Gospel Fuzzies" Glove (Author Unknown)
Make a "Gospel Fuzzies" glove to match the Wordless Book. Have your child trace his hand on construction paper and cut it out using safety scissors. Glue the correct pompom on each finger. Point to the finger as you tell the story or sing the songs.
• Gross Motor Skills :
Play Follow the Leader
• Visual Perception Skill:


Block Activity