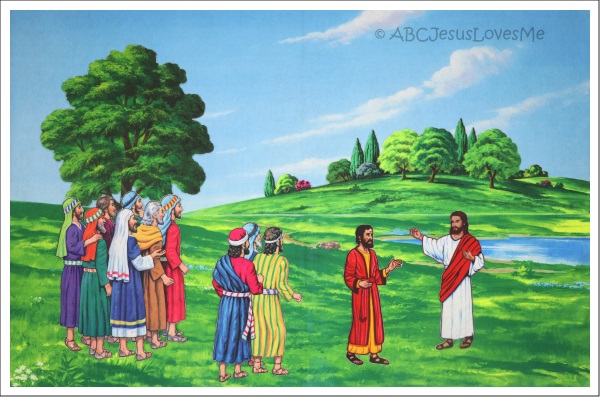 Objectives: God gives to us graciously; we need to thank Him for it.
Ten Lepers Bible Story
Scripture: Luke 17:11-19
My First Hands-On Bible:
pg 302-305
Through the Bible in Felt: pg 193
The New Bible in Pictures for Little Eyes: pg 314
The Beginner's Bible: pg 405
Veggie Tales: Madame Blueberry
The Berenstain Bears Get the Gimmies
The Berenstain Bears Count Their Blessings
Ten Lepers Character Trait
Definition: Being grateful and telling someone about it, appreciating
Opposite: Complaining, ungrateful

Big Thoughts for Little People: Letter A
Ten Lepers Bible Verse
Psalm 118:1 - Give thanks to the Lord for He is good.
Steve Green - Hide 'Em in Your Heart Vol. 2 - #14
Ten Lepers Bible Songs and Poems
Thank You, Lord Traditional

Thank you, Lord, for saving my soul
Thank you, Lord, for making me whole
Thank you, Lord, for giving to me
Thy great salvation so rich and free
10 Little Lepers
Tune: Five Little Ducks

Ten little lepers got healed that day.
But only one leper came back to say.
"Thank you, Jesus, for making me well
Many people I will tell."
Jesus asked, "Where are the nine?
I healed ten bodies and made them fine."
But only one came back to me
Remember God gives to all graciously.


Ten Lepers Activity Sheet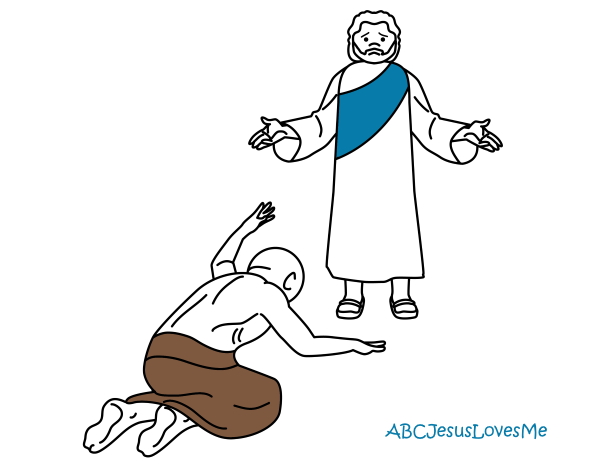 Sheet available in the Bible Activity Workbook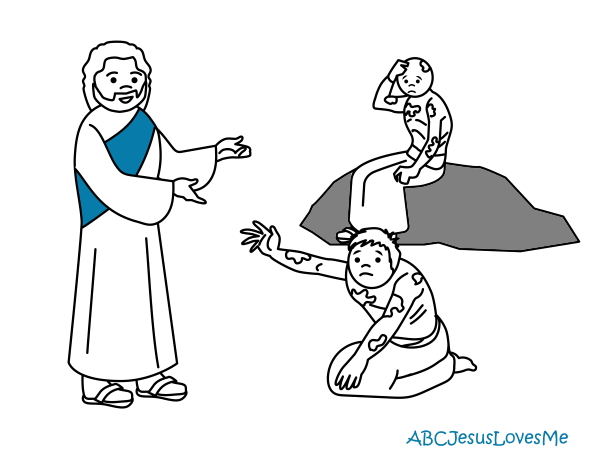 Sheet available in the Bible Activity Workbook


Ten Lepers Activities and Crafts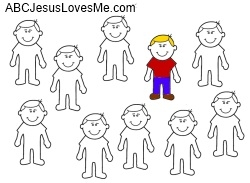 Only One
Print the 10 Lepers printable. Color only one man. Discuss the story.
10 Lepers Paper Doll Chain
Create a paper doll chain with 10 dolls on a string. Decorate only one Idea from MSSScrafts.com
Thank you!
Have your child send out Thank-you gifts (cards or crafts) to let people know that they are thankful for their friendship. The child can practice writing their first and last name for the closing of the letter or card.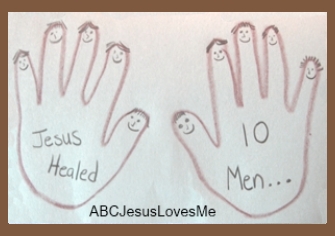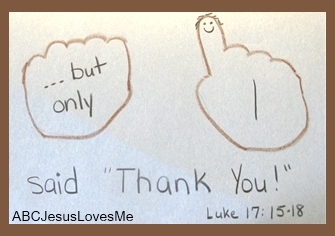 10 Lepers Craft Adapted from Big Book of Christian Crafts
On a piece of paper, trace around the child's hand or paint and stamp a handprint. Show all 10 fingers for the first page. On a second piece of paper, trace or stamp with only one finger up. Add the title "Jesus Healed 10 Men..." to the first page and "...But Only 1 said "Thank You!" to the second page with the scripture reference of Luke 17:11-19.
Thankful Box
Find a box and fill it full of things that you are thankful for (i.e. plastic food, a shoe, paper money). Add to it as the week goes by. At the end of the week, have a "Thankful" party with a "Thank You" cake to God for all of the blessings in your life.
Memory Verse Maze Reprinted with Permission
Create a maze throughout the house with yarn. Add zigzag and wavy lines. Along the maze at different intervals, tie three bows on the yarn. Have the child walk along the yarn and stop every time he comes to a bow. Have him repeat the memory verse at each bow. Then say one thing which you are thankful.
Alphabet Thankfulness
With your family or a group, go through the alphabet and create a list of items that you are thankful for. Have the child write the first letter of each word. Try to stick to phonetic beginning sounds.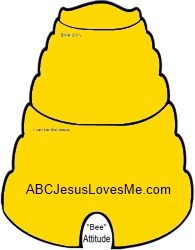 "Bee" Attitude Printable
Print the "Bee" Attitude printable. In the top tier of the bee hive, have the child write the attitude of the week. In the next tier, have the child draw a picture of the Bible story. In the bottom tier, ask the child to draw a picture of himself having this attitude.


10 Lepers Interactive Bible Story
Available in the Old & New Testament Curriculum and 4 Year Interactive Bible Stories.
Discover More Ideas